Waa. Detik 12 malam td. Sudah masuk 20 tahun. Lepas ni kat blakang dah xde "teen" da. Jadi "ty" je. Slmt tinggal alam belasan tahun. Bile dah masuk 20-an ni, Waa, dah tua. Kene jadi matang lepas ni. Whoa.
Semalam ade meeting psal nak siapkan prop. Tip tap. Jam dah kul 12. First sedih gak, kat my phone, stakat jam tu xde sape yg wish pun. Waa, sedih. Yela. Skang ni apepun semua kat fb kan? Kul 12.04 org yg first wish ialah my lovely rumate yg wish. Waa, Sgt tharu, Ingat jgak bday ak kan yana?. Seconnd..Mira Diyana. N then paling best the event is...KELAKARIANS nyanyi lagu bday utk ak. Best2! Tharu sgt!
"Happy Birthday to you.

Happy Birthday to you.

Happy Birthday to fiqah.

Happy Birthday to you."
Yg ni Sir yg ajar AutoCAD wish kat ak. Awal sehari kut. Nway, mmg hargai walaupun awal sgt.
Ni cite dalam fb. Walaupun x seglamour KF (Khairul Fahmi),tapi ade jugak insan yg syg n still ingat ak nk wish. Syang korang la.
Hari ni yg bertarikh 7 Januari 2011 ni., Rmai yg ak bkongsi hari lahir ak. Kan2? Pemain bola sepak Khairul Fahmi itupun same bday with me. Kembar2 ak pun, Ramai2.
KF yg jadi pujaan rmai tatkala ini.
Waa. Lastly yg paling terharu, My Bestfriend in the WORLD.
Syara
siap ade entri khas spesel about me n my birthday. Waa!!! Sayang ko ketat2! Nak adiah dari ko jgak. Tapi entri ni mmg sgt bmakna. Dikaulah kawan yg baik (sumpah). Susah nk cari cam ko kut. 1 in 1000. Oh! Seyes rindu ko n kenangan kite bsama. Jom kite usha sini! Memang blogger otai dan baik. Kalo korang suke my bestie ni jomla follow die. Thanks wey!!!
Ade lg satu entri khas la. Dari shabat coursemate ak ni. waa, tharu wey. Sudi jgak ko wat entri psal ak kan? tengs2
Yup. Masuk 20-an ni mengingatkan ak pda umur yg makin bertambah dan semakin berusia dan tua, dan juga mngira langkah n masa utk menemui kematian. Yup! Setiap org pasti akan laluinya. If birthday, kdg2 rase seronok dan takut. Sbb kita hampir dgn alam kubur nnt. Mge di tarikh yg penuh barokah ni pada pagi jumaat ni. Moga Allah memberkatiku dan kalian semua yg wish dan mgingatku.
p/s : Sape yg nak wish lg? Wat entri khas mcm my bestie ni? hehe. Ade adiah x?? Thanks for all da wishes.

May God bless u always.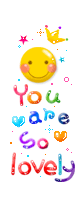 ---
Thanks for reading. Easily to drop comment here. Like also :)
---